Care and Preparation of Cleveland Tofu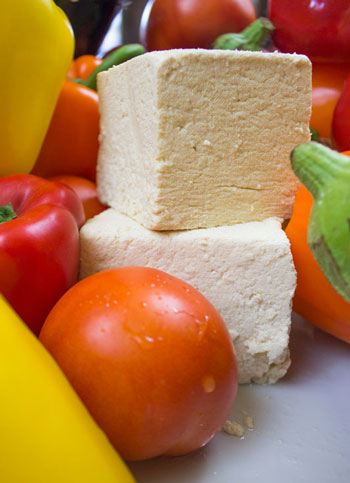 Fresh tofu is always better. Cleveland Tofu is made fresh daily. Fresh tofu has a short shelf-life. To help extend shelf life, you should keep your Cleveland Tofu refrigerated at 34°to 38°. Cleveland Tofu is packed in water and once opened, the water should be changed daily. If you only use a small part of the tofu, drain what liquid is left, rinse with water, and place back in the container with fresh water. Cleveland Tofu may be frozen by draining water and sealing in a freezer bag. Tofu is a plant based concentrated protein. Cleveland Tofu is already cooked, you can eat it right out of the container. Warm or cook by steaming, baking, or frying for a few minutes then add to salads, sandwiches, soups, casseroles, lasagna, and so many other dishes. You can also marinade in your favorite sauce or seasoning packet.
Tofu has a high concentration of protein. Soy is a common food allergy. Be sure you are not allergic to it prior to consuming large quantities.
Have a recipe you would like to share? Submit your Recipe.
For more information on tofu and recipes visit www.savvyvegetarian.com.